Welcome to Entirely Tanner the Official Site for Tanner Berney. You may recognize Tanner from his numerous commercials or maybe his print campaigns for companies such as Garnet Hill and H&M . Here you will find all the news and up to date information about this talented young actor. For Industry Professionals looking to learn more about Tanner, please click on his name above for an overview of information.


NEWS & UPDATES
08 Jul 2014
Happy Birthday!
Being thirteen was an incredible year for Tanner, lots of excitement, new opportunities, and now it is time for a whole new year to begin for him as today is his
fourteenth
birthday!
Happy Birthday Tanner
! I hope today is a
fantastic
day for you as you celebrate with your family and friends. Lots of activities to help make your special day one to remember, and of course cake and presents, you're never too old for that! I hope the wish you make as you blow out the candles comes true, and that today is absolutely
amazing
for you Tanner.
Happy Birthday
!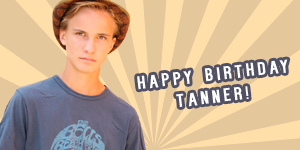 Posted by: Lisa
10 May 2014
Mattel
Back in 2012 Tanner did a shoot for
Mattel
and their
WWE Belts
. He appeared on the new
product packaging
that came out in stores across the globe several months later and it was
awesome
to see himself on the boxes. Kids everywhere have been seeing his picture while opening up their new toys, and now
Mattel
has redesigned the packaging for the product. Normally it would be a sad occasion as the images would change, and we'd no longer see Tanner on our store shelves, but that is far from the case as they have decided to re-use the shoot! Tanner and his friends appear on the new packaging that's been coming into Target, Toys R Us and wherever the product is sold recently, and with a
thank-you
to the
Fong Family
we have a shot of Tanner on one of the new boxes! Make sure to keep an eye out for him at your local stores the next time you're in the toy aisle.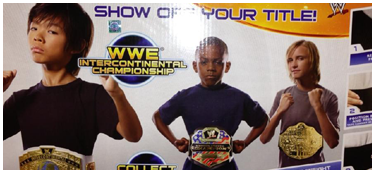 Posted by: Lisa
25 Dec 2013
Merry Christmas!
Christmas
is now upon us, and it is a time for celebration! After opening presents, Tanner will be spending the day with his family, enjoy a nice big meal, and taking time to remember why we are all gathered today on this day. He'd like to take a moment to wish all of you celebrating today a very
Merry Christmas
! He hopes that everyone, no matter which holiday you celebrate, has had a
wonderful
holiday season and all the best in 2014!

(Thanks Sarah for the banner!)
Posted by: Lisa
06 Sep 2013
Valentine Magazine
Earlier this year Tanner did an
amazing
editorial shoot with
Anna Palma
. The images were for the upcoming magazine
Valentine
, and with a huge
thank-you
to Anna, we have the entire shoot! Tanner had a lot of fun, Anna had so many
creative
ideas and he loved bringing them to life while telling the story of a couple she had created. You can sense the
emotion
and love between the two through the images, Tanner and his friend captured their characters thoughts and feelings with such ease. The images all came out great, especially the ones with the pretend skyscraper, and the heart made out of Pop-Tarts was pretty cool!
Thank-you
Anna for such an
exciting
shoot!

Posted by: Lisa